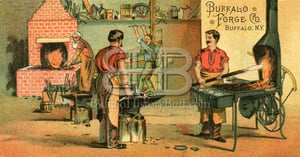 $

20.00
Buffalo Forge
Manufactured by Buffalo Forge Company
490 Broadway Street
Buffalo, New York
1878-1993
The Buffalo Forge Company initially manufactured forges for blacksmiths. Over time tools, drilling machines, pumps and engines, and air-handling equipment were also manufactured. Willis Carrier, inventor of modern air-conditioning was an engineer at Buffalo Forge Company.
All images are giclee prints. We use only archival quality ink and paper. Our paper is 100% cotton and has a natural matte finish.
Prints are matted with a high quality mat board in neutral cream tones. Images and back board are hinge hung with an acid free artist's tape.
Framed images are framed with a black, solid wood, high quality frame.
Live in the Greater Buffalo Area? Type in WNYLOCAL as your promotional code and skip the shipping. We will make arrangements to bring your items to you.