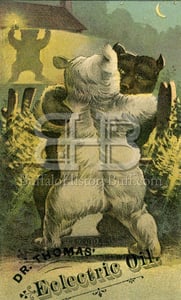 $

20.00
Dr. Thomas' Eclectric Oil
Manufactured by Foster Milburn & Co.
Buffalo, New York
The rear of each advertisement claimed that Dr. Thomas' Eclectric Oil "Will Positively Cure" such things as; Lameness (in 2 Days), Hoarseness (in 1 Hour), Sore Throat (in 12 Hours), Pain of Burn (in 5 Minutes), and Deafness (in 2 Days). Foster Milburn & Co. produced an almanac (and key to health) and a "Pocket Memorandum Book" to promote its products. Foster Milburn & Co. also manufactured the brands "Burdock Blood Bitters" and "Dr. Fowler's Extract of Wild Strawberry".
All images are giclee prints. We use only archival quality ink and paper. Our paper is 100% cotton and has a natural matte finish.
Prints are matted with a high quality mat board in neutral cream tones. Images and back board are hinge hung with an acid free artist's tape.
Framed images are framed with a black, solid wood, high quality frame.
Live in the Greater Buffalo Area? Type in WNYLOCAL as your promotional code and skip the shipping. We will make arrangements to bring your items to you.