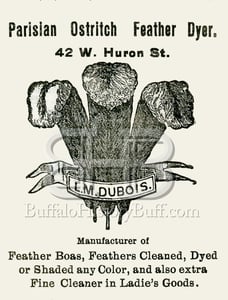 $

20.00
L.M. DuBois
Parisian Ostritch Feather Dyer
42 West Huron Street
Buffalo, New York
1907 Advertisement from a Shea's Theatre playbill. Feathers were commonplace on both men's and women's hats during the late 1800's and early 1900's. Feathers were so popular that acts were passed in both 1900 and 1913 limiting the feather trade and protecting birds endangered as a result of the craze. The L.M. DuBois address is currently a parking lot.
All images are giclee prints. We use only archival quality ink and paper. Our paper is 100% cotton and has a natural matte finish.
Prints are matted with a high quality mat board in neutral cream tones. Images and back board are hinge hung with an acid free artist's tape.
Framed images are framed with a black, solid wood, high quality frame.
Live in the Greater Buffalo Area? Type in WNYLOCAL as your promotional code and skip the shipping. We will make arrangements to bring your items to you.