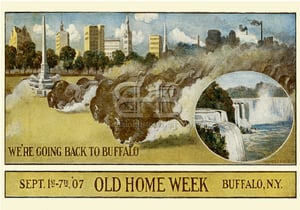 $

20.00
Buffalo Old Home Week
September 1-7, 1907
Buffalo, New York
Buffalo's 1907 Old Home Week was a celebration, of the 75th anniversary of the incorporation, of the City of Buffalo. During Old Home Week, the McKinley Monument was dedicated. Themed days included Fireman's Day, Canadian Day, McKinley Day, Buffalo Fraternal & Irish Day, & Children's Day. Postcards were sent all over the world, to encourage former residents, to come back, visit, and celebrate their 'Old Home'.
All images are giclee prints. We use only archival quality ink and paper. Our paper is 100% cotton and has a natural matte finish.
Prints are matted with a high quality mat board in neutral cream tones. Images and back board are hinge hung with an acid free artist's tape.
Framed images are framed with a black, solid wood, high quality frame.
Live in the Greater Buffalo Area? Type in WNYLOCAL as your promotional code and skip the shipping. We will make arrangements to bring your items to you.