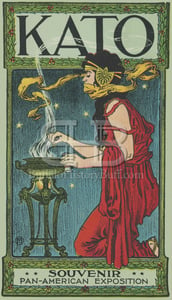 $

20.00
Buffalo's 1901 Pan-American Exposition, like other fairs and expos, was used as a marketing tool to unveil new products. Most of us know that the Pan-Am featured electricity, as alternating current allowed for the power of Niagara Falls to be used to make Buffalo the City of Light. Another contemporary invention 'unveiled' at the Pan-Am was instant coffee. Several inventors and chemists had laid claim to instant coffee, and Satori Kato of Chicago was amongst them, and brought it to Buffalo to show it on the world stage of the 1901 Pan-American Exposition.
All images are giclee prints. We use only archival quality ink and paper. Our paper is 100% cotton and has a natural matte finish.
Prints are matted with a high quality mat board in neutral cream tones. Images and back board are hinge hung with an acid free artist's tape.
Framed images are framed with a black, solid wood, high quality frame.
Live in the Greater Buffalo Area? Type in WNYLOCAL as your promotional code and skip the shipping. We will make arrangements to bring your items to you.