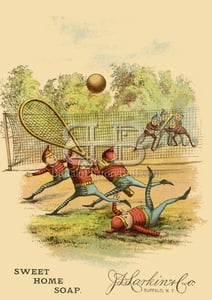 $

20.00
Sweet Home Soap
Manufactured by J.D. Larkin & Co.
196-198 Chicago St. then 653-695 Seneca St.
Buffalo, New York
1875-1967
Sweet Home Soap was advertised as the finest, best seasoned and most economical soap to be had. Direct marketing was used to sell Sweet Home Soap straight from factory to home. Larkin also produced "Boraxine", "Oatmeal Toilet Soap", "Jet Harness Soap", and "Glycerine".
All images are giclee prints. We use only archival quality ink and paper. Our paper is 100% cotton and has a natural matte finish.
Prints are matted with a high quality mat board in neutral cream tones. Images and back board are hinge hung with an acid free artist's tape.
Framed images are framed with a black, solid wood, high quality frame.
Live in the Greater Buffalo Area? Type in WNYLOCAL as your promotional code and skip the shipping. We will make arrangements to bring your items to you.